Seoul is the metropolitan capital of South Korea and its location is channelled by the common Han river which irrigates the major portion of South Korean cities. Therefore this city individually doesn't contribute much towards major beach destinations of South Korea but you can find some famous beaches in Seoul that you might not find anywhere in the world. Ranging from manmade to natural there are some unique phenomenons that fascinate every traveller to explore these beaches. Even though the quantity of these beaches is less, their quality and services are top-notch. There are some beaches near Seoul also, that excite the tourists especially during summers. So, follow along with me, where I mention a list of the popular beaches close to Seoul and an engaging tour of Seoul's beaches.
List of Famous Beaches Near Seoul
1. Muchangpo Beach
This is one of the famous beaches that is well-known for its exclusive phenomenon that occurs every year between 15 July to 30 July here. Around this time, the seabed reveals itself between the water body in a narrow lane as if it's cutting the seawater into two separate sections. This phenomenon is popular among the locals as the 'Moses Phenomenon'. You must explore this popular beach in Seoul that not only offers extraordinary events but have the best shoreline infused with crystal clear water and coarse sand where you might find some traditional fishing activity too.
Location: 10 Yeollinbada 1-Gil, Ungcheon-Eup, Boryeong-si, Chungcheongnam-do Seoul,  South Korea
Read More: Dangerous Cities in the US
Read More: Haunted Places in South Korea
2. Daecheon Beach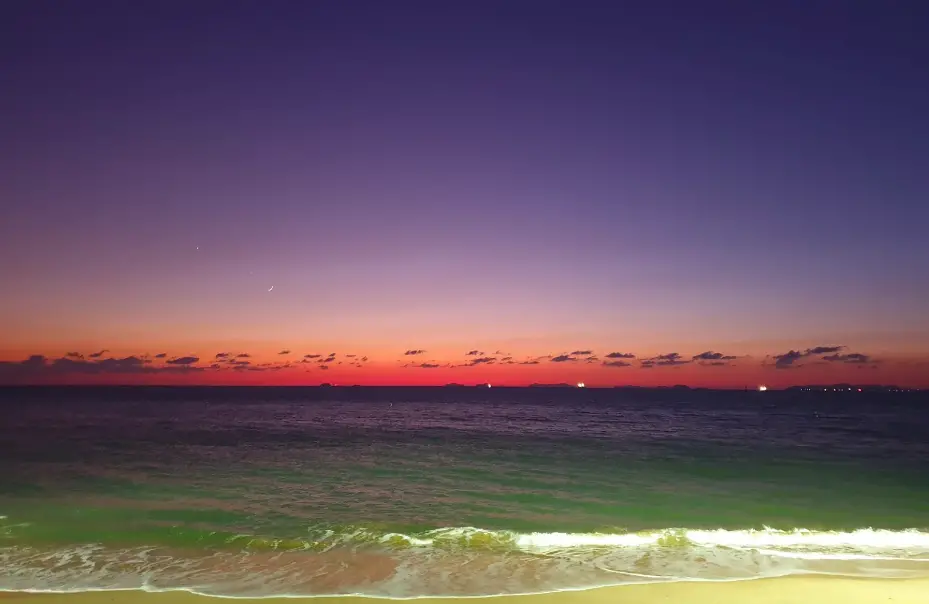 If you want to celebrate and party along the beach sides then this is the perfect destination for your vacations. Since Daecheon Beach is only 3 hours away from Seoul you can find a lot of visitors coming from the main city to enjoy their trips. You'll find a variety of pebbles and shells on this beach along with a stunning view of the sea. You can visit this beach in the festive season as this famous beach near Seoul hosts a grand celebration of Boryeong Mud Festival, which is easily carried out due to the shallow waters and fluffy texture of the sand at the beach every year.
Location: Daecheon 5(o)-dong, Boryeong, South Korea
Read More: Best Theme Parks in Seoul




3. Naksan Beach
When your first priorities are to find a solace place which is filled with natural beauty and scenic landscapes then your first choice among the best beaches near Seoul must be Naksan beach. This beach is very popular among the travellers for its sunrise view from Uisangdae Pavilion, Naksansa Temple and Mt. Seoraksan National Park, which makes it one of the most beautiful beaches near Seoul, South Korea. You can find a complete natural refuge between the mediating temples and calm waves of the sea nearby this beach.
Location: 1 Jucheong-Ri, Ganghyeon-Myeon, Yangyang-gun, Gangwon-Do, South Korea
Read More: Monuments in South Korea
4. Guryongpo Beach
This is one of the most family-friendly beaches I would recommend for summer vacations. You are allowed your own food at this beach hence most of the travellers love to prefer this beach for camping. But the crystal clear waters and soothing waves splashing across the white sands of this beach, are best for giving you a sense of calm lingers in the air. Usually, the food is slightly costlier at the stalls in Seouls that's why, this beach near Seoul, Korea comes out as a very good option for a cheap and enjoyable beach trip with your entire family. You can check out Pohang city if you wish to stay for a night here.
Location: 6 Homi-Ro 426beon-Gil, Guryongpo-Eup, Nam-gu, Pohang, Gyeongsangbuk-do, South Korea
Visit: Famous Monuments of Seoul




5. Eurwangni Beach
This is another public beach located in Incheon. You might be fascinated with its location as it lies very close to the Incheon Airport therefore if you happen to arrive early or depart late at night you can easily explore this Incheon beach near Seoul airport. The water of Eurwangni is shallow so it's perfect for kids, however, walking barefoot is not really advised because of the irregular surface due to numerous small shells washed up over the seashores in the sand which might hurt you.
Location: Yongyu-dong, Incheon, South Korea
6. Seonnyeo Rock Beach
This is a non-conventional beach that you can find if you move further in the Incheon region. This is also known as Fairy Rock Beach because of a rock on the shore that is shaped like a woman, pretty objectifying name I know! But a patriarch society can come out with such names only so what to do? After exploring the rock structures, you can go for hunting crabs nearby the shore of this beach near Seoul, South Korea. You can also find some good sightings of shellfish, and other sea goodies on the shore.
Although this beach lacks sand and is more rocky and harsh therefore make sure to wear some proper shoes as the rocks can be slippery or rough at various places.
Location: 50-8 Banpo-dong, Seocho-gu, Seoul, South Korea(nearby this street)
Read More: Best Cities in South Korea to Visit
I hope you enjoyed this popular beach in Seoul that are super unique and fully equipped with fascinating beach goodies you desire. You can also explore the street foods nearby these famous beaches near Seoul. As most of the beaches don't particularly lie inside the border of this city hence we have mentioned some of the best beaches near Seoul, Korea which you can explore to add more fun into your beach trips.
The post Top Beaches Near Seoul, South Korea| Best Beaches in Seoul appeared first on World Tour & Travel Guide, Get Travel Tips, Information, Discover Travel Destination | Adequate Travel.